Activities and news
---
Project information in a Russian maritime magazine
Here you will find information about one of our Russian-Norwegian development projects in the last issue (November 2017) of the Russian magazine North West Sea Business. This magazine is one of the major Russian magazines, and is widely distributed to maritime players/conferences in Russia.
The text describes a development project carried out by Transportutvikling AS, focusing on Norwegian maritime suppliers and contractors in a Russian context. An ongoing renewal of the Russian fishing fleet presents a most interesting market for the Norwegian companies, and most of the newly built Russian fishing vessels have got Norwegian design and equipment.
It should also be mentioned that quite a few Norwegian suppliers (namely Hamek, Brunvoll, Havyard, Port of Tromsø, Port of Alta, Malproff) participated in Murmansk Business Week, and had talks with customers, in Murmansk 13. – 15. November 2017.
---
NORWEGIAN MARITIME COMPANIES ATTENDS MURMANSK BUSINESS WEEK
During Murmansk Business Week (middle of November 2017), Transportutvikling AS and Innovation Norway organized several B2B meetings between Norwegian and Russian maritime companies.
During the 3 days visit in Murmansk, the companies attended MurmanShelf conference "Arctic Shelf Development: step by step".
The companies also joined a Reception at the Royal Norwegian Consulate together with Russian companies and business associates.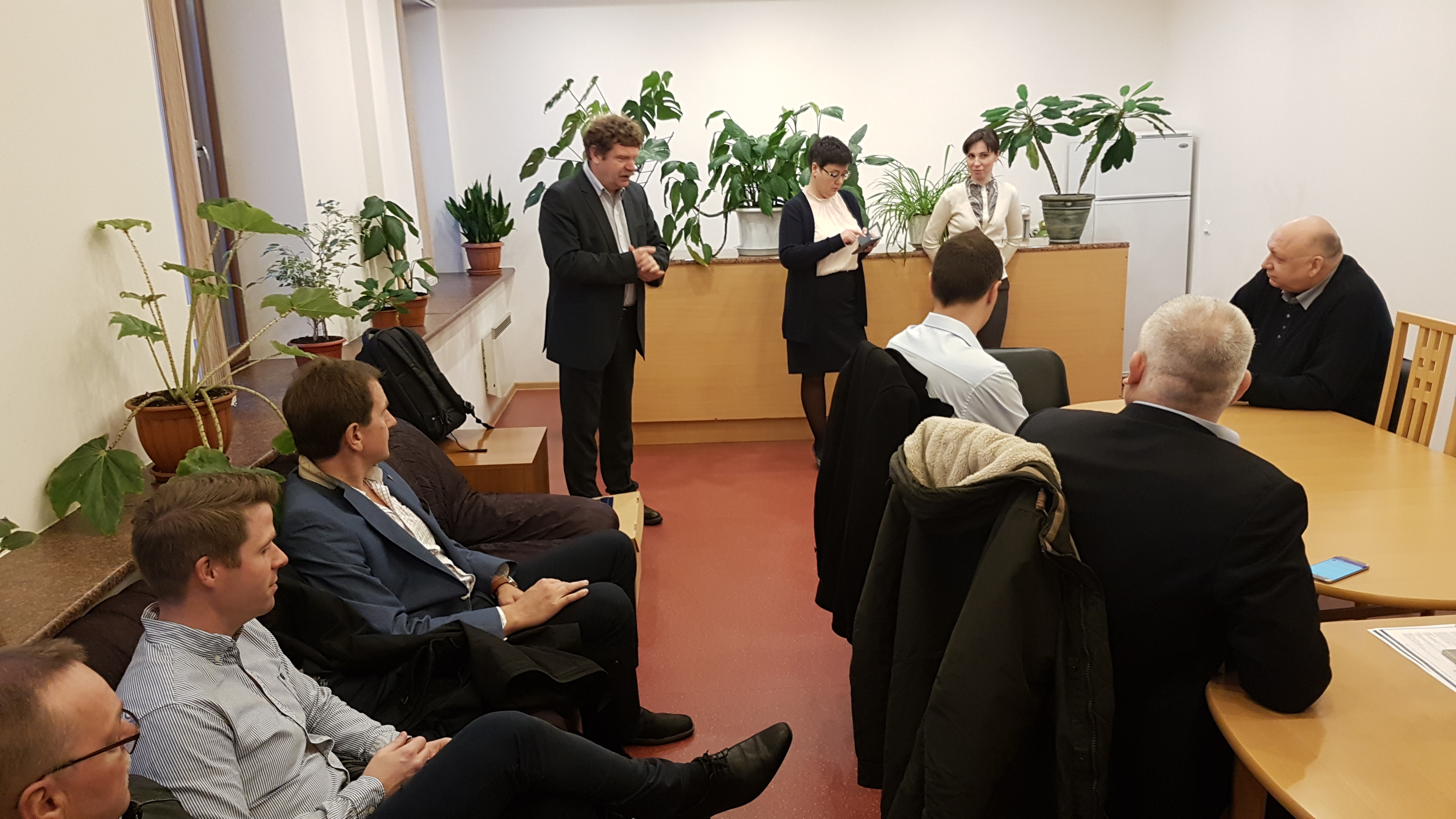 Meeting with Murmanseld2                                                                                                                         Photo: Transportutvikling AS
The most important activity was several business meetings with Russian clients, mainly ship owners and shipping lines.
Norwegian companies like Havyard, Brunvoll, Hamek, Port of Tromsø, Port of Alta, Rapp Marine and MalProff attended the business trip organized by Transportutvikling AS and Innovation Norway.
---
Brochure - 16 Norwegian maritime companies
You can read the Russian-English brochure here. 
---
Norwegian maritime companies at NEVA 2017 (19.-22. September)
Transportutvikling AS, Innovation Norway and the Norwegian-Russian chamber of Commerce are working together to promote Norwegian maritime companies in the Russian market. 
One of the promotional activities are participation at Neva 2017 in St. Petersburg. Neva is Russias Nor-Shipping, - a huge exhibition where 1000 companies shares an exhibition area of 15.000 m2. 
Transportutvikling is promoting 16 Norwegian companies at Neva. We have our own stand, and we distribute a Russian-English brochure where all the 16 Norwegian companies are promoted with two pages each.
Some of the companies attends the exhibtion, - like JM Hansen, Rapp Marine, Brunvoll and Havyard.

 A part of the Norwegian stand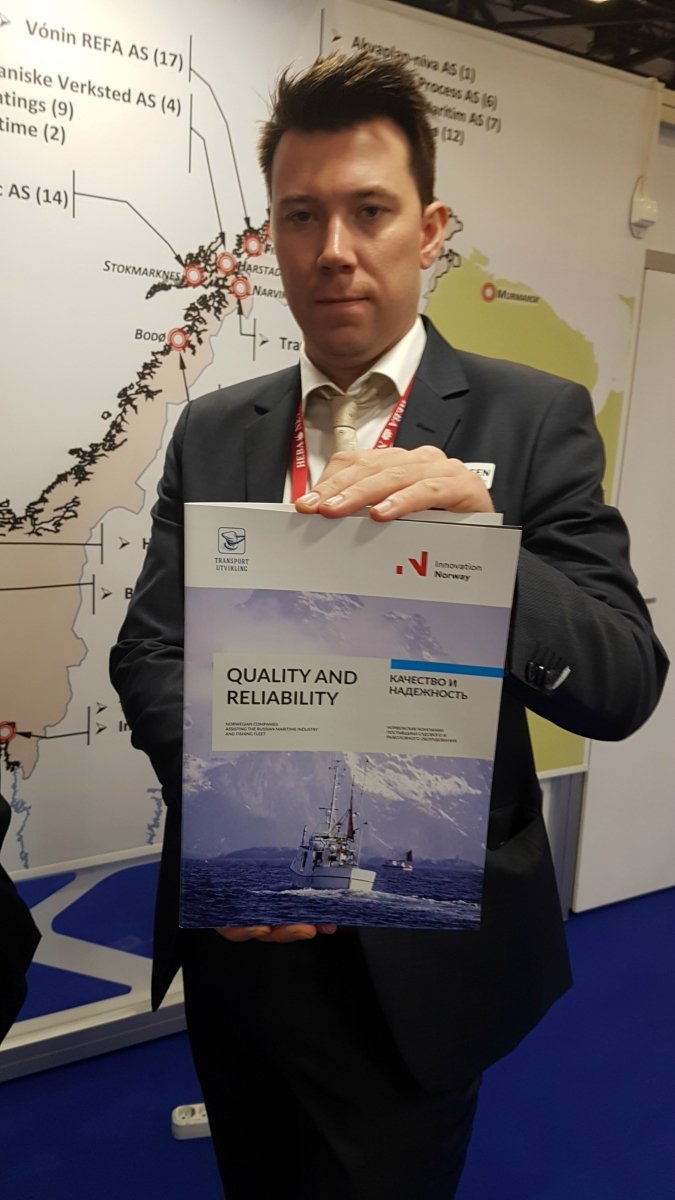 Torkil Thrane and  JM Hansen is partcipating at Neva
---
MMC Refrigeration wins major contract
MMC Refrigeration at Vigra and Tromsoe have come through the eye of the needle in Russia, and won a major contract to deliver marine freezing plants, to four freezer-trawlers to Murmansk.
The vessels are under construction at the shipyard JSC Leningrad "Pella", located outside St. Petersburg. Murmanseld 2 is the owner of the new trawlers. This is one of the first contracts on new fishing vessels in the Russian market, and is a very important contract for MMC. The contract value is close to NOK 100 million. 
MMC, together with the shipping company, and the ship design company Cramaco in Tromsoe, has designed the efficient and environmental friendly marine freezing systems.
MMC in Tromsoe will deliver service and follow-up during new constructions of the vessels, and MMC at Vigra will design and deliver the marine freezing systems.
-              It is not easy to enter the Russian market. Long and good relations between ship-owner, ship consultant and MMC has been decisive to win this contract. This also confirms the quality of our products.  We are very pleased and  humbled to win this contract with 4 deliveries to one and the same customer, says Sales Manager Petter Kåre Grytten at MMC Refrigeration.
Modern freezing plants
The freezing plants to be delivered have the most efficient and environmental friendly design in the market. The solution ensures fast freezing in automatic vertical and horizontal freezers onboard the ships. Here most systems are automated and they are designed for long and safe operation. The plants are delivered with customized automation systems that is accessible for remote control/service.
The first two deliveries of the freezing plants are scheduled for delivery first quarter of 2018 and the last two the first quarter 2019.
Facts MMC First Process
MMC First Process is organized in three business areas, Fish Handling, Process and Refrigeration. Main office in Fosnavåg with branches in Vigra, Sjoeholt, Tromsoe and Haugesund.
MMC Refrigeration supplies and provides service for refrigeration and freezing plants for fishing, farming and onshore facilities. With main office in Vigra with branches in Tromsoe and Haugesund.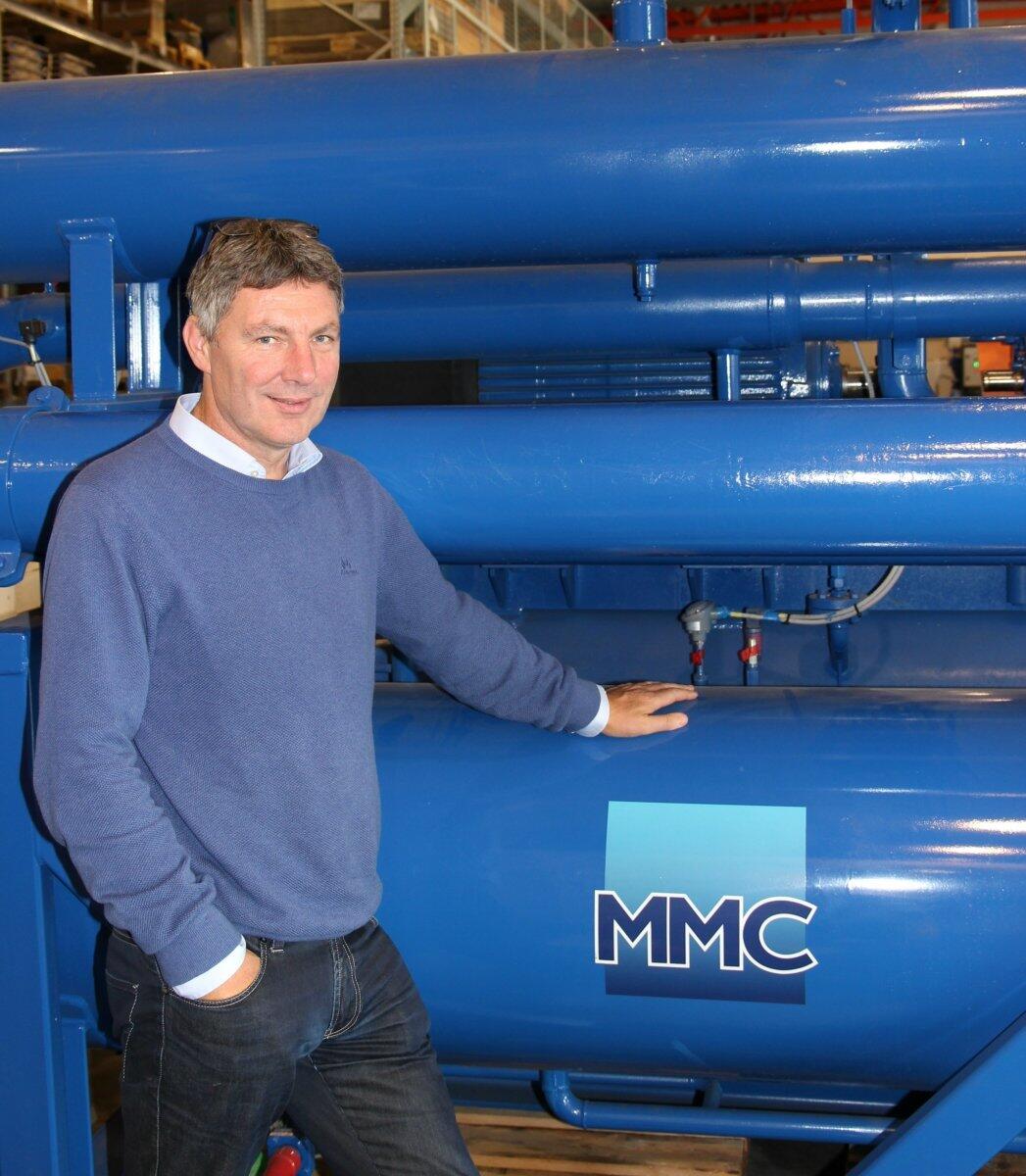 For further information, please contact: Sales Manager at MMC Refrigeration, Petter Kåre Grytten. Mobil: +47 907 42 077
FACTS Havyard Group ASA
Havyard Group ASA is a maritime technological company that provides products and services within seafood, energy and transport. Havyard Group ASA is listed on Oslo Stock Exchange, Ticker HYARD. Main office is in Fosnavaag, and there are 700 employees in the group of companies. 
Havyard Group ASA divides into five business areas:
•             Havyard Ship Technology in Leirvik in Sogn (shipyard) with branches in Fosnavaag and Turkey.
•             Havyard Design & Solutions with main office in Fosnavaag and branches in Aalesund, Poland, Singapore, Shanghai and Croatia
•             NES Power & Systems in Aalesund and Bergen, Norway
•             HPR with main office in Gdansk, Polen and with branches in Norway, Denmark and France
•             MMC First Process with main office in Fosnavaag and with branches in Vigra, Sjoeholt, Tromsoe and Haugesund.
---
Two fresh players in the network
Another two companies will be involved in the maritime Russian project. Those are:
Barents Maritime (Harstad)
Barents AS (marketing name of Barents Maritime), has been a transporter of fish, smolt, dead fish and other fish farming by-products for several years. The Company runs well-boats, handles fish farming by-products and carries out different maritime and onshore service operations (for instance emptying and cleaning tanks, construction of port infrastructure, technical solutions and re-building of vessels). Cooperation with Russia is an important issue for the Company.
Port of Alta KF
The port of Alta is situated on the sea shore of the town of Alta, which is the largest town in Finnmark County. The port has varied activities related to cargo- and passenger traffic, and closeness to main roads like E6, RV 93 and the local airport. The municipality of Alta is one of the major national fish farming municipalities. The port is at present making investments in a new car-to-car terminal and several wharves, in order to increasing the transfer of goods from road to sea. The port of Alta is looking into possibilities for developing its cooperation with Russia.
At present, 18 Companies are involved in the project.
---
Outfitting of 4 trawlers – J M Hansen signs contract with Murmanseld 2
J M Hansen of Tromsø has signed a contract with Murmanseld 2 as of 2017, to the effect of fully equipping 4 trawlers with navigation, fish finding and communication equipment. The vessels are to be built by Pella Shipyard in St. Petersburg during 2017 – 2021.
J M Hansen entered into the maritime ship's installation business more than 90 years ago, and as of now delivers complete packages of maritime electric devices and service, maritime automation and maritime electronic systems, as well as sub-marine lighting and shore lighting equipment for the fish farming industry. The Company's staff counts today more than 25 co-workers, and is DNV, DSB, ISO and RMRS certified. For their Russian customers, the Company carries out various services, classification and re-building of smaller vessels as well as of large ships under construction.
---
Attending Murmansk Business Week, November 2017               
In November 2017 the project participant will attend Murmansk International Business Week (MBW). 
MBW is arranged every year in Murmansk.
The project will organize the trip, all practicalities, business meetings and social events.
The event will take place in close cooperation with Innovation Norway and the Norwegian Consulate General in Murmansk.
Participation at the Exhibition is an option for the companies.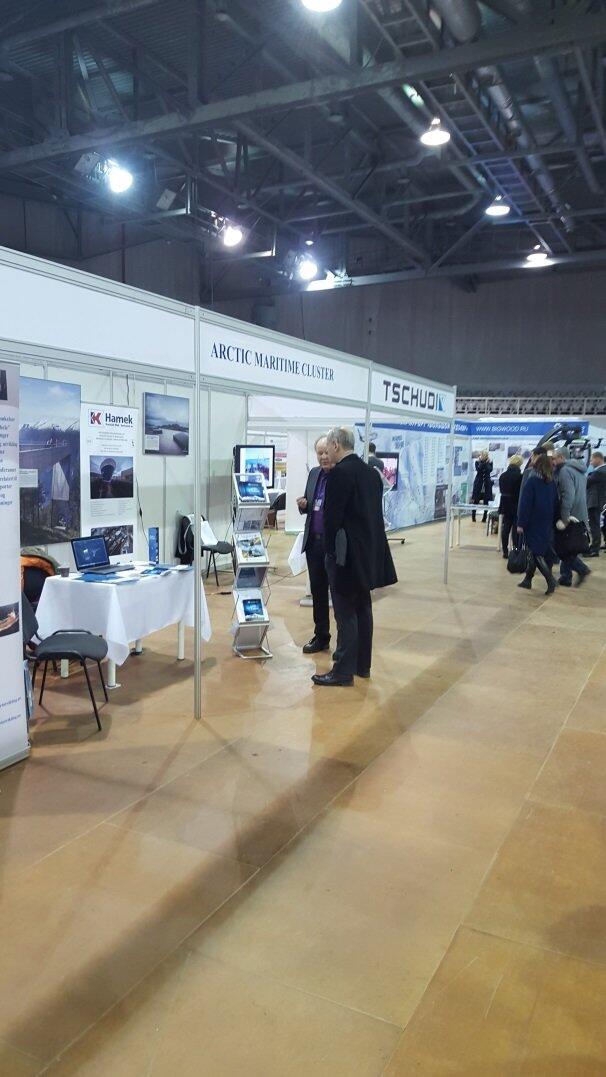 The picture shows Oddvar Rundereim from Transportutvikling AS, -promoting Norwegian maritime companies at the MBW Exhibition in 2015.
---
Attending NEVA 2017
«Since 1991, the NEVA Programmes have continuously supported the accelerating expansion of Russia's commercial maritime industries by promoting development opportunities, products, services, designers and manufacturers, and cooperation with world-wide shipping and trade, while offering serious opportunity for International participants to take part in Russia's redevelopment programmes."
(Quote from the organizer)
«NEVA» is Russia's largest maritime event and a bi-annual arrangement. In 2015  approximately 15.000 visitors and guests attended the 4 Day Exhibition and Conference Programme. 538 exhibiting companies from 36 countries occupied a total of11.146 square metres exhibition space, indoor and outdoor.
In September 2017 the project and the companies will attend the NEVA-exhibition and various events.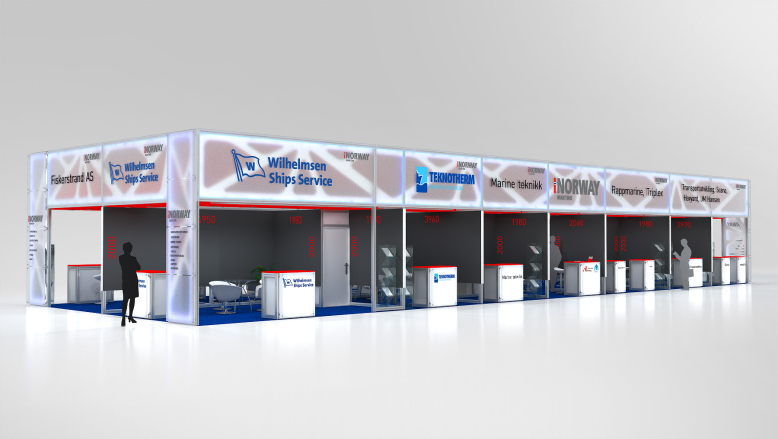 The picture shows an animation of a section of the project's exhibition stand, organized by Innovation Norway.
---
Promotional brochure ready autumn 2017
The project will issue a new 40 page promotional brochure, presenting the 16 companies in English and Russian language. The brochure will be ready for NEVA (autumn 2017).
---
Success story –HAMEK and Russia
Harstad Mekaniske Verksted (HAMEK) continues its successful work in Russia. New maintenance contracts have been signed and new contracts are on its way. HAMEK's excellent work and results are presented in Innovation Norway's annual report for 2016.
The annual report concludes as follows:
"HAMEKs success in the Russian market represents an exceptional result from the project work, where excellent synergies are obtained through the cooperation between Innovation Norway, project management by Transportutvikling AS, and most important; engaged and professional company management."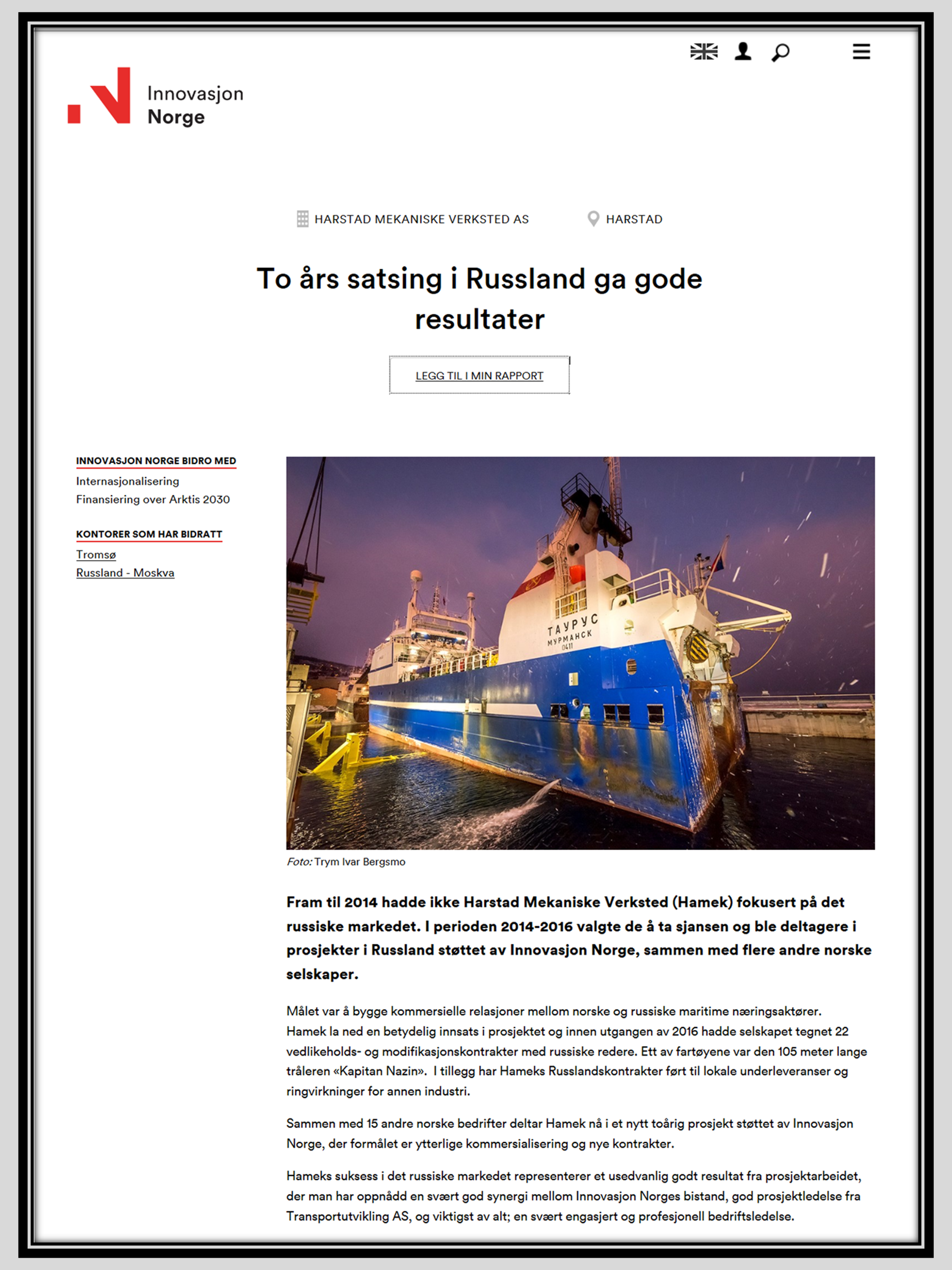 ---
Murmansk visit April 2017
In April 2017 several of the Norwegian maritime companies visited Murmansk. During the two-day trip several business meetings and presentations where conducted, as well as meetings with the Consulate and a visit to the nuclear Ice breaker "Lenin".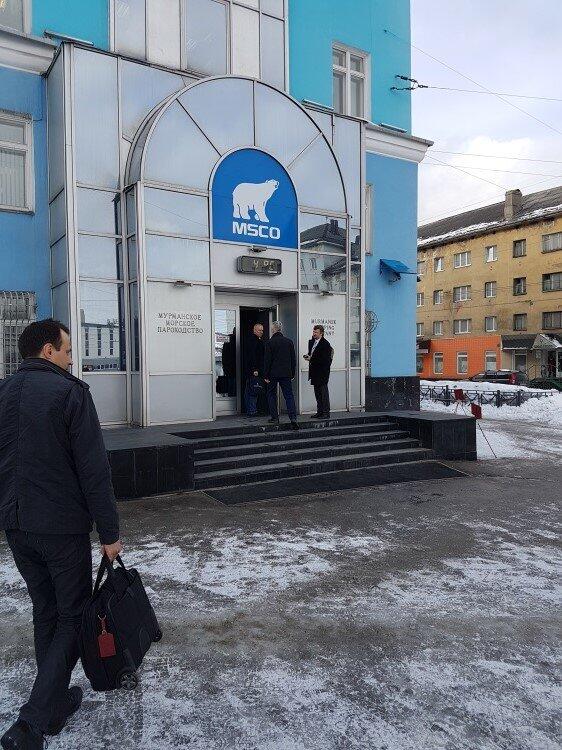 Maritime company representatives in front of the main entrance of Murmansk Shipping Company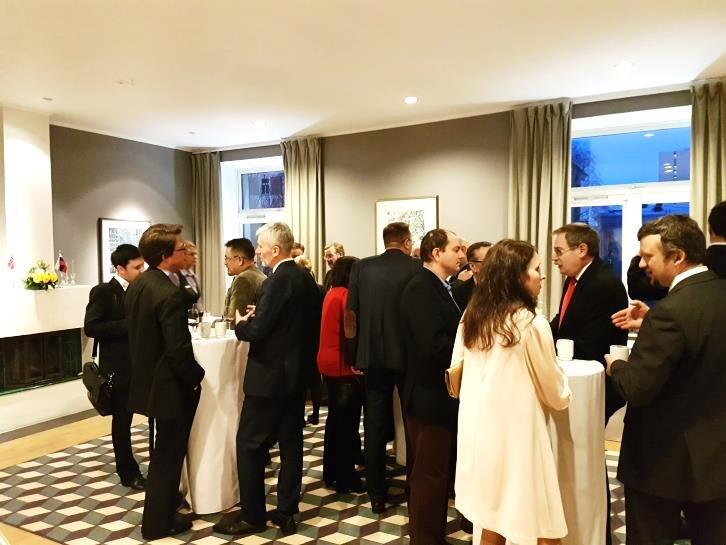 Reception at the Norwegian Consulate General in Murmansk
A short memo (in Norwegian) from the trip can be read here.